NMEA 2000® Gateways/Bridges
The Internet Protocol Gateway (IPG100) lets you connect PC's, Mac's, tablets, or smartphones to an NMEA 2000® network so you can monitor and control your vessel using Maretron's N2KView® software. The conventional way of viewing NMEA 2000® information is with a display on the vessel that is directly connected to an NMEA 2000® network (such as Maretron black boxes (MBB300C's), and Maretron touch screens (TSM800C's, TSM1330C's)), but with the IPG100, you are not limited to direct connected displays. With the IPG100, you can use any device running N2KView® software to monitor and control your vessel from onboard or ashore.
The IPG100 has an NMEA 2000® and an Ethernet data port for exchanging information between the onboard NMEA 2000® network and Internet Protocol (IP) enabled devices using conventional technology such as routers, switches, and wireless modems. Once enabled, the IPG100 will automatically connect to Maretron's Real Time Cloud Service, which allows you to remotely connect to your vessel via the Internet. This allows you to keep an eye on your vessel from anywhere in the world.
Applications: Diesel Fuel Flow Monitoring, Gasoline/Petrol Fuel Flow Monitoring, Cooling Water Flow Monitoring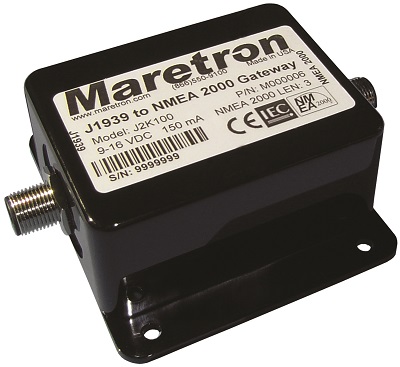 Maretron's J2K100 attaches directly into J1939 networks of compatible engines, transmissions, and gensets and converts the J1939 engine data to the NMEA 2000® marine digital interface. Critical engine, transmission, and genset data is then distributed throughout the vessel over a single cable where it can be monitored by any NMEA 2000® compatible display. All the information you need is available anywhere and everywhere you need it.
The J2K100 only listens to the J1939 network and draws no power from it (power is derived from the NMEA 2000® interface). The J2K100 does not transmit any information over the J1939 network so it will not interfere with existing engine control or status data in any way.
The J2K100 can also be used as part of a complete fuel computer. Simply connect the J2K100 together with the Maretron universal display (DSM250) or DSM410 and GPS antenna/receiver (GPS200) and you have a system capable of displaying gallons per hour and/or miles per gallon.
Features:
AC Generator Current
AC Generator Frequency
AC Generator Voltage
Tachometer
Engine Hours
Coolant Pressure
Coolant Water Temperature
Engine Oil Pressure
Engine Oil Temperature
Boost Pressure
Fuel Rate Monitoring
Charging Voltage
Percent Engine Load
Percent Engine Torque
Rated Engine Speed
VIN
Software ID
Transmission Gear
Transmission Oil Pressure
Transmission Oil Temperature
Aplications:
Caterpillar
Cummins
Detroit Diesel
John Deere
Kohler
Onan
Perkins
Steyr
Volvo Penta
Yanmar
Maretron's NBE100 (Network Bus Extender) allows you to extend the maximum node count, network trunk length and cumulative drop length of any NMEA 2000® network. The NBE100 solves bus errors and other electrical issues caused by exceeding any of these limitations and makes design of large networks easier. NMEA 2000® networks have a maximum of 50 nodes allowed on a single network, a maximum network trunk length of 200m and a maximum cumulative drop length of 78m. If you have a network that exceeds any of these specifications, you can simply disconnect the network trunk in the middle and connect the ends to the NBE100, along with additional termination resistors. This will split the network into two electrical segments, each of which can have up to 50 nodes, for a total of 100 nodes on the logical network. The NBE100 will transparently route NMEA 2000® messages between the two network segments, making them work as a single logical NMEA 2000® network.
Features:
Segments a single large NMEA 2000® network into two smaller electrical segments.
Allows you to exceed the 50 node limitation on a NMEA 2000® network.
Allows you to exceed the 200m trunk length limitation on a NMEA 2000® network.
Allows you to exceed the 78m cumulative drop length limitation on a NMEA 2000® networks.
Allows all NMEA 2000® devices to operate as if they were still on a single NMEA 2000® network.
Optically isolates network segments, increasing signal integrity and network reliability.
Applications:
Extending NMEA 2000® networks beyond the 50 node limitation.
Bridging Maretron NMEA 2000® network to pseudo NMEA 2000® networks.
Building in system redundancy for ultra reliability application.
Maretron's USB100 is a gateway for bridging computers to an NMEA network. This allows you to use PC based vessel monitoring and control software like Maretron's N2KView® or PC based navigation software. The gateway provides one simple connection between the network and the PC, which eliminates conventional multiplexers and the maze of wires usually associated with interfacing equipment to PCs.
Maretron supplies drivers for the following versions of Windows.
Windows XP (32-bit and 64-bit)
Windows Vista (32-bit and 64-bit)
Windows 7 (32-bit and 64-bit)
Windows 8 (32-bit and 64-bit)
Windows 10 (32-bit and 64-bit)
For older PC based navigation software that requires receiving data in NMEA 0183 format, the USB100 automatically converts information from the NMEA 2000® network to NMEA 0183 sentences. You can continue benefiting from navigational and charting software that you already own while enjoying the many benefits of networked NMEA 2000® instruments.
Maretron's USB100 is engineered and manufactured to the highest standards (IEC 60945 Maritime Navigation and Radiocommunication Equipment). Its compact waterproof housing will provide years of reliable performance.
Features:
Bearing Orig. to Dest. (BOD)
Bearing to Waypoint (BTW)
Distance to Waypoint (DTW)
Velocity Made Good (VMG)
Est. Time of Arrival (ETA)
Time to Go (TTG)
Cross Track Error (XTE)
Set / Drift
Applications:
PC-based charting software
PC-based diagnostic tools